The Deep Core – more than just planks!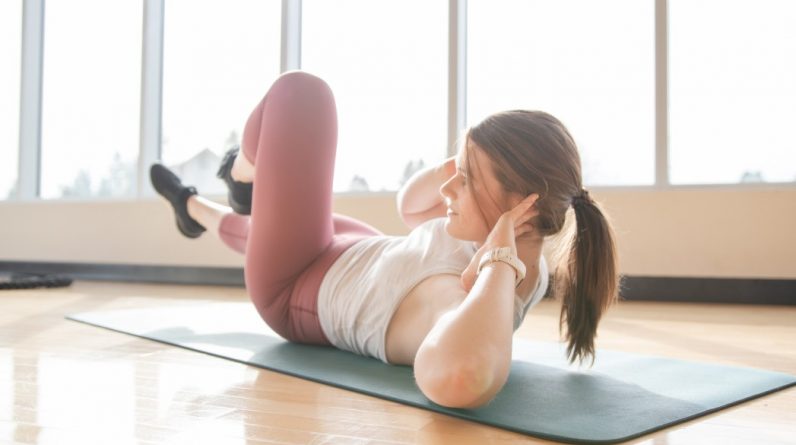 strong>Do any of the following scenarios apply to you?
You consider yourself a fit person, but you suffer from periodic strains in your back, hips, ribs or neck! With stretching and rest these seem to resolve only to reoccur later down the line.
You have unexplained periods on incontinence (with or without a history of pregnancy). A laugh, sneeze or jump and it's too late! A dribble sneaks out.
You periodically "put your back out" when doing simple moves such as bending over to pick something up.
You don't have any of these concerns, but you're interested in learning about the deep core and how to best strengthening it!
If you answered yes to any of the above, keep reading!!
Hi everyone, thanks for checking out my blog post! I'd like to introduce myself to those who don't know me and share some info on a very important and poorly understood area of the body – The Deep Core! As a bonus, I have also included a free beginner core workout video at the bottom of this post!
My name is Simone Beattie and I am a Physiotherapist at Trillium Integrative Health Centre. I have lived in Smithers with my fiancé and trail pup for 3 years and have been fully enjoying all that this quaint town has to offer.
I was graciously brought onto this amazing team at Trillium 1 year ago and could not be happier to be working alongside such talented and caring practitioners. Working with Hannah Barnes, I was introduced to Pelvic Floor and Women's health Physiotherapy. I completed my 3 levels of pelvic floor training with Pelvic Health Solutions Inc. and in the past year have really enjoyed helping patients in this area of treatment and playing a part in their success stories.
This new path has taken my understanding of the pelvic floor and the core stability system to a whole new level and I have gained a much deeper appreciation for the muscles that make up our deep core! When asked if someone has a strong core, a common interpretation of this is how many sit-ups one can do, or whether they have visibly chiseled abs. However the core is actually much more intricate than that. The deep core is a group of muscles that make up the deepest layers of our trunk and pelvis and provide our body with stability through movement. While strength of these muscles is critical, coordination and timing is also key.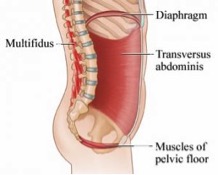 Typically, during every day movements our core allows us to create a supportive pressure from all sides of our torso, but when one component does not engage, there is a "break" in the system.
If your 'go to' when picking up something heavy is to take a breath in and hold it, you are effectively creating pressure in your abdomen through your diaphragm by filling up your lungs with air. But what is happening to the rest of the core? Essentially, pressurising a can that has a strong metal lid but weak sides and bottom, put those weaker areas at risk for bulging and breaking. In the example of your body, all the pressure goes out towards your abdomen, back, and down towards your pelvic floor, stretching the muscles and creating false stability in the deep core.
While this strategy may seem effective the majority of the time, ineffectively stabilising the core many times across multiple activities – bending over to unload the dishwasher, weeding the garden, grabbing a file from the lower cabinet drawer – eventually the weak sides start to show their wear. This can present as a strain of the muscles that are weak and overstretched, or muscles that aren't meant to be stabilisers, become overactive, e.g. the hip flexors. Pain, tightness, and pinching can arise as a result. For the pelvic floor muscles, either of these aforementioned situations can occur and being too tight and/or too weak can also affect pain and continence *.
Beyond simply picking up objects, this philosophy expands to anytime and every time we move our bodies! This includes running, hiking, biking, weight lifting, skiing etc.
So how do we train and strengthen the deep core?
First of all we need to get down to the basics and be able to train all of the deep core muscles to engage together effectively and efficiently. If you have been into the clinic for a pelvic floor and/or deep core assessment, you may know that this involves more subtle movements of the muscles and a lot of concentration! This is because our nervous system is the first thing that needs to be trained and "strengthened". Once we have this base well trained, we can start to challenge the core with movements of our arms and legs and eventually integrate it into your everyday activities, whether that is competitive cross country skiing or simply picking up your kids.
Below is a core activation workout that is suitable for most, but if you have any concerns, please check with your health care providers before beginning any exercise program. If any of these exercises cause pain or discomfort, stop and refer back to your health care professional or schedule a Physiotherapy assessment here.
Through these exercises keep your awareness on contracting and relaxing your deep abdominal muscles and pelvic floor (the muscles you use to stop the flow of urine and gas) in time with your movements. Once you are comfortable with this, you can begin to incorporate your deep core work into your daily tasks. Watch the video below for a few helpful tips and guidance through the following exercises:
Coordinating breathe with your core (very important!)
Pelvic tilts
Cat/ Cow
Modified dead bug
Each person's situation can be unique, so if you are struggling with any of the above mentioned concerns or would like individual support and guidance in strengthening your deep core, please schedule an initial physiotherapy assessment by clicking the 'book appointment' tab in the top right corner of this page or call us at 778-640-1119.
Aside: * If you have more specific questions or concerns regarding your pelvic floor function, please reach out to us or book a Pelvic Floor Physiotherapy Assessment by clicking on the 'book appointment' tab in the top right corner of this page.