Pelvic Organ Prolapse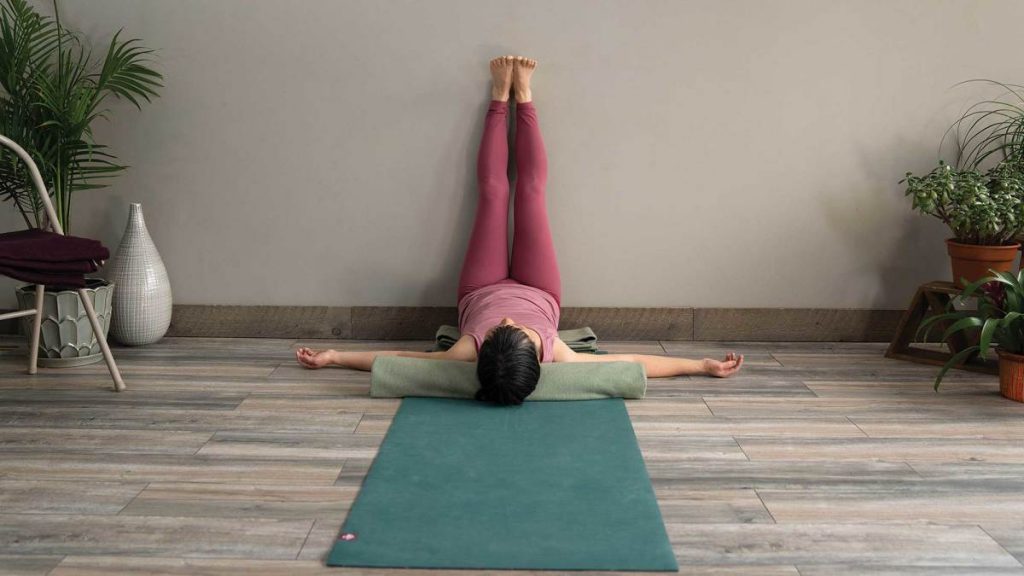 June is Pelvic Organ Prolapse awareness month and as such, I thought it would be a good opportunity to highlight and provide more information on what pelvic organ prolapse is, what symptoms you might experience with it and what can be done about it. It can effect as many as 33-50% of women yet for some, very little is known about it.

What is pelvic organ prolapse?

Pelvic Organ Prolapse, or POP, occurs when the connective tissues surrounding the pelvic organs and the pelvic floor muscles no longer provide sufficient support. The pelvic organs include the bladder, bowel and uterus. When these organs lack the required support, one or more of these organs can start to drop and descend into the vaginal canal or out of the vagina.

What are the symptoms of POP?

Often symptoms of prolapse are not painful but instead are more uncomfortable. Women might experience 1 or more of the following symptoms:
A feeling of heaviness, bulging or dragging inside your vagina
A feeling of heaviness around the lower abdomen, genitals or perineum
Feeling like there is something coming out of your vagina
Physically seeing a bulge or lump coming out of your vagina that you need to push back inside
Problems with you bladder such as difficulty starting your flow or feeling like you can't fully empty your bladder or dribbling when you stand up from the toilet
Problems with your bowel function such as feeling like you can't fully empty your bowels or needing to digitally assist a bowel movement by pressing against the back wall of your vagina
You may also experience urine leaking with coughing, sneezing or exercise (stress urinary incontinence) in conjunction with any of the above symptoms
Some women however, will not feel any symptoms with a prolapse and it is only picked up on examination by your gynecologist, family doctor or pelvic floor physiotherapist.
What can cause a pelvic organ prolapse?
Prolapse usually occurs due to weakening or damage to the tissues that support the pelvic organs. Damage and/or weakness of these muscles and tissues can occur as a result of the following:
Pregnancy and childbirth – especially if you had a long and difficult pushing stage, sustained trauma during your delivery, had a large baby or have had multiple deliveries
Aging and hormonal changes often associated with menopause. This can affect the muscle and tissue bulk, strength and support of the pelvic organs
Being overweight
Excessive or chronic straining occurring with long-term constipation or medical issues causing excessive or chronic coughing
Having a hysterectomy
What are the types of pelvic organ prolapse?
There are 4 main types of prolapse:
Bladder or Cystocele– where the bladder falls and descends into the front wall of the vaginal canal
Uterine – where the uterus/cervix falls and descends down into the vaginal canal
Vaginal Vault – this can occur after hysterectomy
Rectal or Rectocele – where the rectum falls and descends into the back wall of the vaginal canal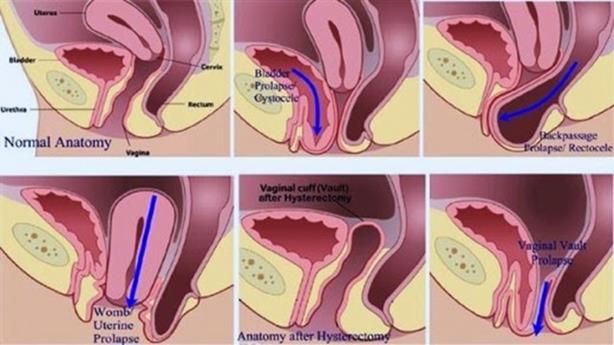 What can be done for pelvic organ prolapse?
Pelvic Floor Strengthening – One of the first steps is to get an assessment from a pelvic floor or women's health physiotherapist. They are trained to do an internal vaginal assessment to asses the type and grade of your prolapse. They can also assess your tissue quality and pelvic floor muscle strength and determine whether you would benefit from a pelvic floor strengthening program. Often a program that focuses on strengthening your pelvic floor and balancing the internal pressures of your abdomen and pelvis through proper breathing, can significantly reduce the degree of pelvic organ prolapse and the symptoms associated with it.
Pessary – In some circumstances a vaginal pessary will be recommended. This is a small support device that is inserted into the vagina to provide a passive support for the pelvic organs. This is best used in conjunction with a pelvic floor strengthening program to build up your natural support of your pelvic organs.
Surgery – Surgery might be required if you have a higher grade of prolapse or if your symptoms have not improved with a pelvic floor strengthening program or with using a pessary.
General Health and Lifestyle – Other lifestyle changes that can help include:
Losing weight if you are overweight
Preventing and treating constipation with measures such as a diet rich in fiber and good hydration
Avoid straining and heavy lifting
At Trillium we have 2 specially qualified pelvic floor physiotherapists.  If you have any questions or concerns around prolapse, you can book an appointment with either Hannah Barnes or Simone Beattie through our online booking site or by calling our clinic at 778-640-1119.