Breathing – what's all the fuss about?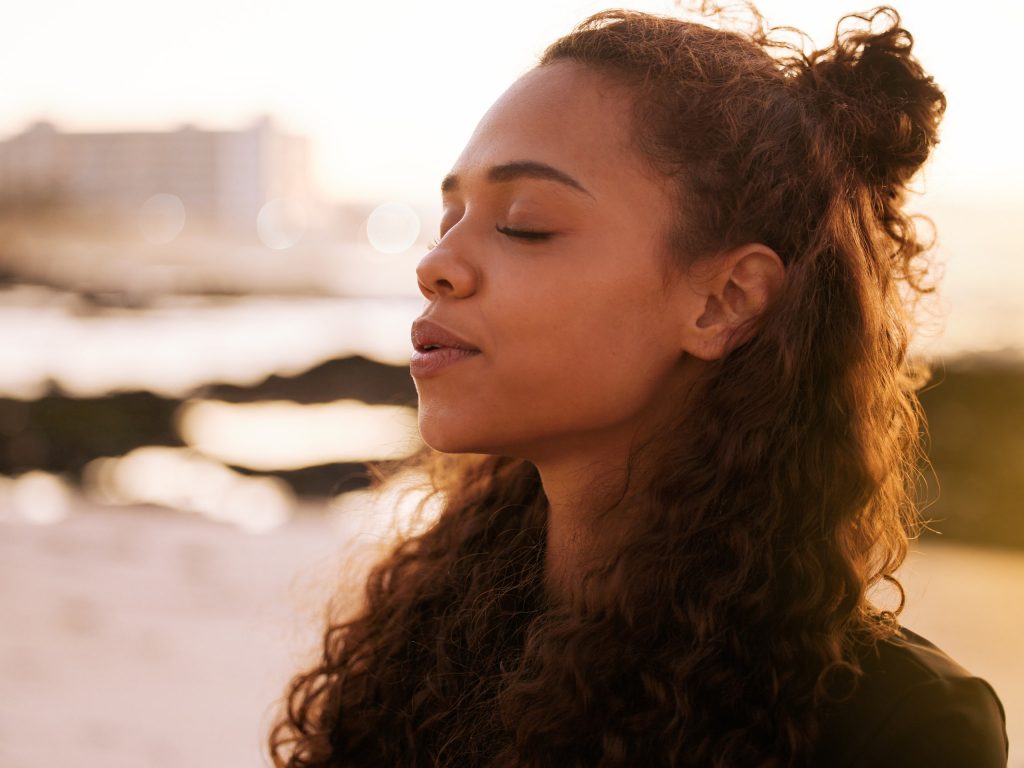 Breathing is the foundation of our existence and is essential for maintaining and creating optimal health and wellbeing. It seems so obvious and yet most of us have forgotten how. This repetitive, unconscious action can profoundly effect movement, mood and energy levels so why not be more conscious about it?  
How might insufficient breath affect your body? It can present as headaches, muscle and joint aches, irregular digestion, and fatigue to name a few.  Breath can be a powerful medicine.   It would be a wonderful addition to your annual checkup to have you GP check not only blood pressure, pulse, temperature but ALSO your Respiratory rate; the balance of oxygen and CO2 in your blood stream; how you breathe and the quality of each breath.  Specific techniques using breath can decrease stress response, lower or raise blood pressure, improve aerobic capacity and calm the mind and spirit. I have included at the end of this blog, resources for a large variety of breathing techniques to achieve many different results.
For today, let's start with basic breathing. Let us take a look at one of the most important muscles involved in breathing, the diaphragm. This massive dome shaped muscle occupies most of our thoracic cavity and works in conjunction with the pelvic floor, transverse abdominus and multifidi to create the core or inner unit. Its central tendon fuses with the surface of the lung as well as the heart. Openings in the diaphragm permit the passage of the aorta (blood from the heart), inferior vena cava (blood to the heart), esophagus as well as that famous Vagus Nerve. So………WOW!
 Not only is the diaphragm the primary muscle in breathing it also functions to:
Integrate our pelvis, spine and rib cage
Moves the ribcage and vertebrae in the thorax to facilitate mobility and spinal health
Engages pelvic floor
Contributes to core stabilization
Facilitates digestion by mobilising the GI tract (gut health)
Allows for passage of food through the oesophagus to the stomach 
Evacuates pelvic contents during defecation, urination and childbirth
Help the return of Venous blood to the heart from the abdomen
What are some symptoms we might experience if the diaphragm is restricted?
Stiffness and immobility
Fatigue; muscle soreness; joint aches due to lack of oxygenated tissues
Gastric reflux (heartburn) if digestive juices cant flow to the stomach they can travel back up the esophagus
Dysfunction of the pelvic floor and or core stability
Hiatal herniation
So what can we do to take care of this amazing system?
Let's start here with 3 simple exercises:
Belly Breathing:
Kneel or sit comfortably
Place your hands on your abdomen and feel them rise as you inhale. Imagine air is pouring into your body like into a water pitcher. It fills from the bottom up!
Yep! That simple! Repeat this conscious breathing for 5 breaths or more if you can make time!
Lateral Rib Breathing:
Place or wrap your hands around your lower ribs
Send breath into the back and sides of the ribs without expanding the stomach
Picture the dome of the diaphragm lowering and the ribs expanding like an umbrella as you breath in
One Lung Breathing:
Side bend the body by either placing right hand on the floor or hand down by the side of your thigh
Place the left hand on the lower left ribs
Imagine pushing all your breath into the left lung (open or upper side of body)
Repeat 3 breaths and return to upright on the last EXHALE
Repeat 3 breaths leaning to the left side and filling the right lung
Here are some other breathing methods and exercises that can further deepen your practice
Alternate Nostril Breathing ( Nadi Shodhana) – lowers heart rate, blood pressure and sympathetic stress
Resonant Breathing – a calming practice
Buteyko Breathing – helps align metabolic needs
Nose Songs ( hum your favourite song) – increases Nitric oxide to widen capillaries, increase oxygen and relax smooth muscles
Chewing Gum ( say whaaaaat???) – strengthens jaw and stimulates cell growth
Resources and methods can be found at mrjamesnestor.com/breath
Need more help?
Ask your therapist here at Trillium what we can do to help. Our Registered Massage Therapists can help manually mobilise the diaphragm, educate clients on healthy breathing patterns and exercises you can do at home. Our Physiotherapist, Registered Acupuncturist and Therapeutic Counsellor can all help you find the right tools to restore healthy breathing patterns to maintain your optimal health and wellbeing.